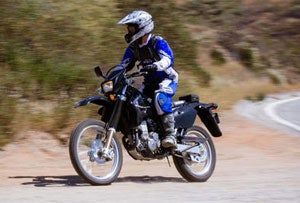 Many things in the insurance world can be difficult to understand, but collision coverage is as easy as it gets. If you've opted for collision coverage and get into an accident, your motorcycle will get fixed or replaced. You are only out of pocket for the deductible.
Just like with comprehensive coverage (often bundled with collision coverage), the deductible usually runs from $0-$1000. A higher deductible means a lower premium, but if you've got a less expensive and lower risk motorcycle (like a dual sport), the difference between a $250 and $500 deductible is minimal. However, if you've got a $30,000 custom bike, the premium can jump considerably with a lower deductible.
Do I Have To Get Collision Coverage?
Collision coverage is typically optional, but if you are financing your motorcycle your lender will likely demand you have collision coverage. This ensures that if you get in an accident, you will have enough money to pay off your loan. If you bought your motorcycle outright, you can choose to forgo collision coverage.
Collision coverage is not just for the street. Let's say you've got a sportbike like a CBR1000RR that you want to take to the track. Is your motorcycle protected by collision coverage? Unless it's clearly stated in your customer documents that it's not covered, you should be free and clear to have fun at the track. Just to be safe, ask your insurance agent or broker before you book your track time. Keep in mind that if you are competing in timed or sanctioned events, collision coverage will not apply.