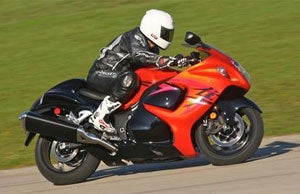 As you hopefully already know, the kind of motorcycle you have and your insurance premiums are closely related.
A 20-year-old newb will pay a whole lot more to insure a rocket like a Hayabusa than he would on a more experience-appropriate motorcycle. Though more seasoned riders will pay less to insure a Hayabusa than a young rider, it will always cost more than insuring a Ninja 250.
Insurers place motorcycles into individual segments, each with their own rates. Cruisers, Sportbikes, Tourers, and Off-Road motorcycles are all fairly straightforward. However, some motorcycles fit into multiple segments (the Ducati Multistrada and Triumph Tiger 1050 to name two).
Shop Around For The Best Rates
One insurer may have a bike listed as a Dual Sport, while another may have it listed as a Sport Tourer. This is why it's a good idea to get quotes from multiple insurers before making a decision. If your Tiger is listed as a dual-sport by one insurer, it could cost significantly less to insure than if it was listed as a sport tourer with another insurer.
Another thing to keep in mind is that an insurer may move a motorcycle from one segment to another. This would happen if the losses were getting too high and the insurer needed to move it to a segment that better matched its loss ratio. This could mean a significantly higher premium for you from one year to the next, even if you had no claims and a perfect driving record.